One of the rites of winter in Hokkaido. Lets enjoy the Smelt fishing on endless white ice (ice fishing) !
By not clinging to the cold stove and go, get out on the table. Here is a majestic natural Kushiro winter.
During the summer, the lake had floated the canoe to something that is covered in ice and snow white.
Such a hole in the ice sheet, try hanging a fishing line, "pixels, Pikutsu" sound from the middle of winter Kushiro (Atari) come back. Something or are approaching it with a crane and sea eagles can feel. Kushiro I feel full of life what winter.

TORO Nature Center's smelt fishing tours is guided from a service that, you try and charm you with confidence by inexperienced children fishing.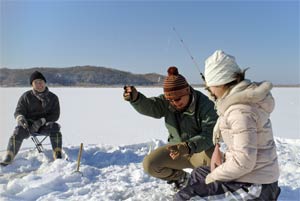 Smelt fishing guides who are familiar with, and considering the weather conditions and lake ice conditions, will guide you to everyone.
How to teach a good fishing hole - selection - fishing, the guide will help you all.
Fried smelt are caught on the fly. Piping hot, crispy, fresh fish, tempura-fried taste of excellence. ?
Enjoy a guided tour is unique.
No need for special tools available! (Eg, needle feed spring pole, all basic equipment will be provided here), you can participate with confidence.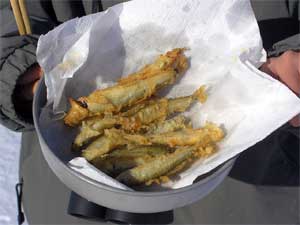 Point of The fishing
Plankton food smelt. Migration has been looking for plankton in the dark under the ice in droves.
So, by turning to focus light through a hole opened in the ice, plankton which were distributed to flock towards the light. Asking for this plankton gathered smelt, the smelt bite is bait was introduced into the hole.
I have the advantage of the natural environment and ecology of smelt like this, "the point of fishing hole" is.